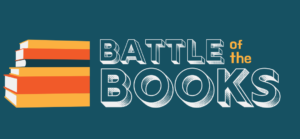 America's Battle of the Books is a reading incentive program for students in 3rd thru 12th grades. Students read books and come together in teams of four or five to demonstrate their abilities and to test their knowledge of the books they have read. The student competitions are usually similar to the TV series Family Feud or Whiz Kids styles of competitions. However, the structure, format, and rules of the competitions may vary depending on the educational goals, student needs, local resources, and personal preferences at various school sites, school districts, county libraries, or offices of education.
Students get a BRAG TAG for every book they have read on their grade level list.
See the lists below for 3-4 grades and for 5-6 grades.
 Book List 3-4 Grades 2023-24 :: Book List Link
| | |
| --- | --- |
| Title | Author |
| The One and Only Ivan | Katherine Applegate |
| Lincoln and Kennedy: A Pair to Compare | Gene Baretta |
| Freckle Juide | Judy Blume |
| Bobbie the Wonder Dog: a true story | Tricia Brown |
| Tornado | Betsy Byars |
| The Chocolate Touch | Patrick Skene Catling |
| Muggie Maggie | Beverly cleary |
| Frindle | Andrew Clements |
| The Lemonade War | Jacqueline Davies |
| Because of Winn-Dixie | Kate KiCamillo |
| Phineas L. MacGuire...Erupts! The First Experiment | Frances Dowell |
| Boxes for Katje | Candace Fleming |
| The Infamous Ratsos | Kara LaReau |
| Nim's Island | Wendy Orr |
| Clementine | Sara Pennypacker |
| Knights of the Kitchen Table | Jon Scieszka |
| I Survived The Great Molasses Flood, 1919 | Lauren Tarshis |
| Boxcar Children | Gertrude Warner |
| Charlotte's Web | E.B. White |
| You Never Hear of Sandy Koufax?! | Jonah Winter |
Book List 5-6 Grades 2023-24 :: Book List Link
| | |
| --- | --- |
| Title | Author |
| The White Mountains (Tripods Series #1) | John Christopher |
| Ice Magic | Matt Christopher |
| Who Was Neil Armstrong? | Roberta Edwards |
| My Side of the Mountain | Jean Craighead George |
| Escape from Mr. Lemoncello's Library | Chris Grabenstein |
| Unusual Chickens for the Exceptional Poultry Farmer | Kelly Jones |
| Masterminds | Gordon Korman |
| Ella Enchanted | Gail Carson Levine |
| The Princess Academy | Shannon Hale |
| Number the Stars | Lois Lowry |
| The Mad Wolf's Daughter | Diane Magras |
| Candy Shop War | Brandon Mull |
| Wonder | R.J. Palacio |
| Hatchet | Gary Paulsen |
| Scared Stiff | Willo Davis Roberts |
| Esperanza Rising | Pam Munoz Ryan |
| Holes | Louis Sachar |
| Brothers at Bat: The True Story of an Amazing All-brother Baseball Team | Audrey Vernick |
| Love, Ruby Lavender | Deborah Wiles |
| The Castle in the Attic | Elizabeth Winthrop |